10 - 12 July 2019 | Hilton Birmingham Metropole
---
The ONLY national event dedicated to catering in education
---
The theme for 2019 was A HEALTHY AND SUSTAINABLE FUTURE and recognised the important part school caterers play in delivering this to their students each day. It is also recognised the work that the Association has done in driving this message forward during its 30 years of operation.
Why attend?
Engage in thought provoking and inspirational seminars delivered by industry leading experts

Experience

unrivalled networking opportunities with suppliers at the Education Catering Exhibition and during the informal and Awards dinners

Reunite with colleagues to discuss the issues facing education caterers nationwide

Celebrate the achievements of industry peers at the LACA Awards for Excellence dinner
2019 speakers included Prue Leith, Liz Bonnin, Katharine Tate, Dr Hazel Wallace, Mark Banahan and more...


Everything you need is there

The Education Catering Exhibition running alongside The Main Event is the only exhibition dedicated 100% to catering in education and is the ideal place to find solutions to a wide range of requirements from food and beverage products which all help education caterers meet the nutrient guidelines in place, cashless payment and nutrition software solutions to furniture and dining room marketing.
The exhibition is open to all school caterers, managers and contract caterers to attend FREE of charge - REGISTER
---
Unrivalled networking opportunities

One of the greatest benefits of being at the Main Event is the unrivalled networking opportunities it offers. The Education Catering Exhibition is the chance to catch up with your suppliers and discuss new products, as well as source new ideas.  For delegates arriving on Wednesday, the accommodation package includes a place at the LACA ice breaker evening and of course there's the LACA Awards for Excellence gala dinner once again on Thursday night where you can celebrate the achievements of industry colleagues.
---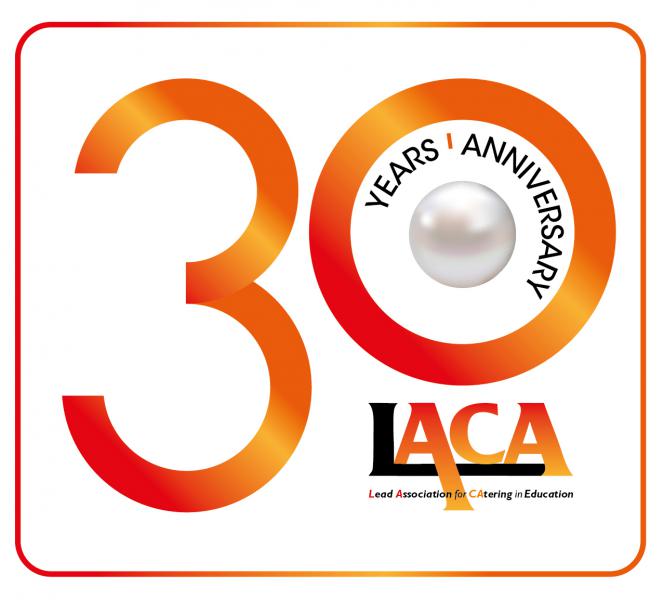 LACA's 30th Anniversary Celebrations
To celebrate LACA's 30th Anniversary, we will be holding a Lucky Sevens timeline trail prize draw at this year's Main Event. Collect your prize draw entry form at the registration desk and visit each of the anniversary panels located throughout the event. Complete the entry form by writing the picture caption that appears as number 7 on the card and hand in to the registration desks. The winner will be chosen from all entries on Friday to win a PS100 Love2Shop voucher.
---
Awards & Competitions

Recognising and celebrating excellence from across the industry